Hello lovelies!
Welcome to the new week! (:
There are so many fun weekly link-ups that I have found here in the Blogging world that people have started (like
Oh How Pinteresting Wednesday at The Vintage Apple
,
Fridays Letters at Adventures of Newlyweds
,
What I am Loving Wednesday at This Kind of Love
) so I thought that it might be fun to start one of my own.
May I present to you 'Confession Tuesday'! ta-da!
Every Tuesday I will be confessing my silly little quirks and things that happened in the past week. If you want to join in on this fun little adventure - just grab my button (below) and post it to your blog, linking back to my lovely blog!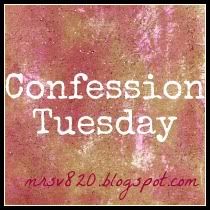 So lets start:
- I confess that I did have a Whitney Houston sing-along by myself this weekend while deep cleaning the kitchen and bathroom. I danced and belted my little heart out. I am sure the neighbors were impressed with my very-close-to-America-idol-skills. (:
- I confess that sometimes after I
have an intense workout
do pilates in my living room, I eat a cookie after my shower. Not to reward myself for
the amazing job
getting through the whole DVD, but just because it looks scrumptious!
- I confess that occasionally when I have to go out to the store after being home I will throw on my yoga pants, tennis shoes, sports bra, tank top, and throw my hair in a pony tail with a stretchy headband so it looks like I was JUST working out... instead of
cleaning and cooking
sitting at my house. (: sneaky sneaky this girl!
Well that is it for this week's Confession Tuesday!
confessions and love, Monica
♥ . ♥ . ♥