Friday is seriously my favorite day! The weekend is just about here and I get to write some letters (: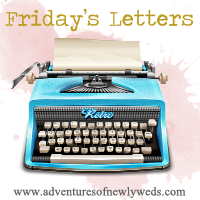 Dear Sophia,
You sleep in the silliest of places! How is it comfy on the floor? Or with your head on the cable wire? Or on an empty box?! Hehe. You are too funny! I am so glad that your daddy is off this weekend so he hang out with us.
Hopefully he will take you out to go potty at 3am. (:
Love, Your momma.
Dear Honey Vanilla Chamomile Tea ,
Thank you for being our companion these past few evenings. Not only are you absolutely delicious but you help to relax my love and I for bed. I have so enjoyed our time together and I hope we make a habit of it. (:
Hope to See You Soon, A relaxed Wife.
Dear Washer and Dryer ,
I adore you! The way you make our clothes so sparkling clean is so wonderful. Mr. V is so excited when he comes home to clean relax clothes and clean work clothes. I am overjoyed with clean kitchen towels. I couldn't do it without you!
So Grateful, Mrs. V
Dear Love,
I cannot believe that it is already your birthday on Monday and then our ONE YEAR ANNIVERSARY shortly after that. Time has gone by so quickly! You truly impress me with your ability to get up every morning and work as hard as you do! It just amazes me. You are an incredible man with a fantastic work ethic. I know God will open more and more doors for you!
Love Forever, Your Rib
Our first dance 8.20.11
Dear Lord,
You are always awakening my heart to You. You are so incredibly powerful and gracious that I cannot even wrap my mind around it. You are all powerful and yet You still want to know me on a personal level. Wow. Thank You! I am trusting You more and more, Lord, and I believe in Your promises for my life. Thank you for blessing me and my little family. I want to always praise You and give You all the glory. I love you.
Always In Awe, Your Princess
Dear Follower/Friends,
I am so glad that each and every one of you found my little blog! This blog started out with just a way to document my wedding planning and to keep friends/family updated... but now I have 50 followers! I am so blessed and humbled by you all. I hope that you all feel encouraged and uplifted when reading my little blog. I am so glad when I get to know you all better and I love every single comment that I get. You all inspire me to keep documenting my life. I really want to look back on my blog, smile, and remember my life just as I write it and in this process you are all making me feel so blessed!
I have decided to change my 'Confession Tuesdays' weekly link-up into 'If You Really Knew Me Tuesdays'... with all the new followers I am getting I would love for you all to get to know me a little better and to get to know you all a little better. (: I will start on Tuesday! (:
So Thankful, Monica
Have a fantastic Friday!
Letters and Love. - Monica
♥ . ♥ . ♥
Also don't forget to check out my new facebook page. (: