Happy weekend lovelies!!!
Lets write some letters!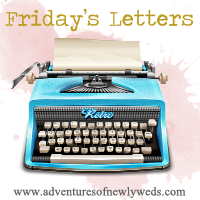 Dear Sophia,
Could you please stop chewing on me, the blankets, the shoes, and everything that is not your toys. Thanks! We loved snuggling with you last night while watching football. I hope you get used to it... that is your daddy's favorite thing to do. (:
Love, your momma
Dear Home,
Can you ever stay clean? I feel like I have been cleaning you nonstop every single day. Kitchen. Bathroom. Living room. Bedroom. Floors. Eh... oh well. I am going to clean you super good today so I can relax all the weekend.
- Stay at home wife
Dear Chapstick,
I am OVERJOYED that I found you! Thank you for keeping my lips soft and happy.
With love, a girly girl
Dear Love,
I had soooo much fun with you at dinner for your birthday last weekend! You looked too cute in that Sombrero!
I am so glad that we can talk and work things through and we are learning more and more about communication. Thank you for that wonderful date day! I think that we needed it. You work so incredibly hard for us and you deserve to just do fun things and relax.
I love you and appreciate you soo much! I wish you didn't have to work tomorrow so that we can just hang out again. I am looking forward to church on Sunday with you!!! (:
Forever, Your Rib
Dear Follower/Friends,
Thank you all for reading! I am just always in awe of the comments and emails I get from all of you! I appreciated it so much! You are all too sweet for words!
I made some changes to my blog style. What do you all think? I am not an expert at blogging or layouts or html or anything so I am always proud of myself when it can at least function properly! hehe.
I am enjoying getting to know you all a little bit better!
Thanks again, Mrs. V
Dear Lord,
You are so incredibly good to me. You saw my heart and the things I was going through spiritually this week and you showed up to speak truth to me.
Lord, forgive me for believing the lies that the enemy speaks. Once I find the courage and the confidence to write about
fighting insecurity
the enemy attacks me right to my core. Thank you for using the beautiful people around me to remind of my worth. Thank you for all the love that you have for me and for verses that remind me of Your glorious truth.
You are so good to me and none can compare to You. God continue to reveal Yourself to me as I read along with SheReadsTruth in the book of Proverbs. Encounter me at all times.
I pray for everyone reading this to encounter a fresh love from You!
Always, Your Princess
I hope you all have a wonderful weekend!!! (:
letters and love, Mrs. V
♥ . ♥ . ♥