What a day I had today!!!!
Lots of things went wrong with the DMV (except here it is just the driver's license office) and a car rental place. Martin and I were wanting to see my family in
Oklahoma
but it didn't work out.
There were some problems since I have an 'out of state license' (its so weird for me to say that.. since its a California license.. to me, Martin has the 'out of state license') and Martin is not 25 yet. Eh.. Well hopefully I can get my Alabama license soon so we can go somewhere next month for our anniversary.
Let me be honest with ya. (if you want to participate just grab the button, put it on your blog, and confess with me. Just leave a comment with your blog URL so I know you did too and I can check it out. )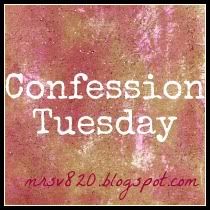 - Sometimes when I am cleaning and there are a lot of clothes (clean & dirty) I throw them all in the dirty clothes hamper because I just do not want to deal with them.
- Today I got ALL dolled up because I knew they were going to
do a super high fashion photo shoot
take my picture at the
DMV
Driver's License Office.... but nope! I didn't have my birth certificate (I did however have my social security card, marriage license, and 'out of state license'.
- When on my cell phone with the car rental place I had a split second wish that I was on a "regular" phone so I could slam it. Tapping the 'off' button really hard just doesn't share the same relief as slamming a phone down.
- Yesterday I ran on the elliptical while watching the Justin Bieber episode of Glee AND danced to 'Boyfriend' in the car. I can't help it... I kinda
love
like him.
Thats all I have for today! Have a very happy Independance day!
Confessions and Love, - Monica
♥ . ♥ . ♥