Its Friday again!!! Oh I am soo happy! I am BEYOND ready for the weekend.
Lets write some letters. (: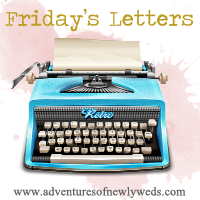 Dear A/C,
Do you think you can start working correctly? I set you to 72 degrees... but somehow by the time my Mr. gets home it says it is 82 degrees in the house. You realize that is a TEN degree difference? I am not the one who needs the cool air... he is. Can we work on this? Thanks in advance!
Signed, One hot wife.
Dear David Tutera,
I have been watching 'My Fair Wedding' on Netflix this past week and can I just say that I love you! You make the most beautiful weddings out of the silliest concepts. You are making me want to have another wedding though! Still marry my prince.. but just have another beautiful celebration of love. Thanks for entertaining me while I fold laundry.
Sincerely, a forever bride
Dear 49ers,
Hubby and I are sooo excited for the new season!!! (: I never thought that I would
ENJOY
watching football on TV but I think that the 4 yrs of cheerleading helped. hehe. I truly love spending that quality time with my Mr.
I love making fun finger foods, wearing the attire, and seeing him encourage you and coach. Lets make this a good season for him, okay? Oh! And hopefully we will see you at the New Orleans game!
Love, the 49er convert
Dear Sophia,
I know that you always want to go in the spare bedroom and our room during the day... but you just cannot. I am sorry. We are taking you to the vet on Saturday for a check-up and schedule some shots.. so get excited for your first outing! Oh and I am sooo proud of you for sleeping ALL NIGHT LONG (all niiight... all night loooong.. all night. ..... Sorry Iionel Richie just popped in my head). Lets make a habit of this. (:
Also.. its so incredibly cute the way you have to readjust your body all the time when you sleep. hehe
Always, Your mommy.
Dear Skype,
Okay.. seriously.. you are fantastic! Thank you for keeping me in contact with my friends! I love that I can feel like they are with me... even when they are thousands of miles away! I like to just stay signed in all the time... so that whenever someone gets on.. they can Skype me if they want! You are
wonderful
.
Signed, Long Distance Friend
My lovely friend Pam, who just moved to TN
My gorgeous friend Alyssa, who lives in WA
Dear Husband,
Thank you for working so so hard. I know this week has been super tough on you! I appreciate it. You are breaking your back for your family and I trust that God will reward you.
Sorry for our little arguments this week and thank you for your grace while I was working out my insecurity. You constantly push me towards the Lord and I am so thankful for that.
Ohhh! I cannot wait until your birthday... and I still can't believe you convinced me to give you your present early! You little stinker! We are going to have fun! ANNDDD then it will be our 1 yr anniversary! So insane!
Love forever, Your Rib
Dear Lord,
Oh.. I love you! Thank you for your grace that is sufficient for me. Lord, just thank you for opening my heart more and more. Thank you for provision! Thank you for friends and for family. Today.. I just feel so thankful! Thank you for continuing to bless my little family! You are so much better then I realize.
With a Thankful Heart, Your Princess
Happy Friday everyone and have a wonderful weekend!
Letters and Love. - Mrs. V
♥ . ♥ . ♥