Happy Tuesday lovelies!
Let me get some things off my chest: (:
- This morning I wanted to punch 5am straight in the face! WHY does my husband have to work so early? Poor guy! I did not want to get up and lingered in bed until the last minute. I promised myself I could go back to sleep when I get home from dropping him off -- that didn't happen.
- If we go according to what me and my husband looked like as children... I think I will have the CUTEST kids in the world (sorry everyone else).
My love and his little sister, Natosha
- I don't get excited to clean the house. But this morning I found my new favorite product! I have been wanting to try it for awhile.. but I FINALLY bought it and I am so stinking excited! Its
Mrs. Meyers Clean Day
. I bought lavender counter spray and basil dish soap and my kitchen smells AH-MAZING!!! Mrs. Meyers is mostly all natural (97%), cruelty-free, no harsh chemicals, and no animal testing. Its safe for children and expecting mothers. Its all good for the environment. I noticed its not really any more expensive then other cleaning products and my kitchen smells delicioso instead of like ... bleach.. and cleaning product. I am pleased as punch!
- Sometimes when I am "napping" I am really playing Temple Run on my phone... but my hubby really does nap.. and then I sneak pictures of him. hehe.
I hope you all have a wonderful day! If you would like to join my link up just copy the code, put on your blog linking back to me, and confess away! (:
Also add your info, so others (and myself) can know you did Confession Tuesday. (: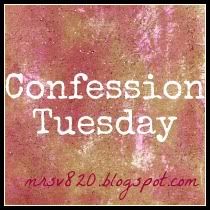 Confessions and Love. - Monica
♥ . ♥ . ♥