Linking up with the ever-so-lovely
Ashley at Adventures of Newlyweds
for Friday's Letters. (: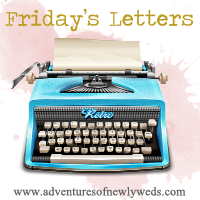 Dear Weekend,
I am so incredibly overjoyed to see you here! Uh! It feels like forever since you have been here last! You are more then welcome to linger a little longer this visit. (:
with love, The wife to a hard-working man.
Dear Sophia,
You truly are cute as can be! I was very hesitant if I wanted a puppy or not.. but I am glad that we got you. (: You whine a little bit more then I thought you would.. and sleep WAY more then I thought. Lets get this potty training thing fast though... I have already cleaned up enough pee piddles for the day and its only 11am. But we love you!
Welcome to the family!
Love, Your new momma.
Dear Blogger,
Okay I still don't know what is up with my sidebars in the 'home' page. I read that it could have been because of a picture or link that was too big -- well I fixed it and its still messed up. Can you just do me a favor and fix yourself? I know its not a HUGE deal... but it annoys my OCD a little. I appreciate it.
Sincerely, Not-so-techy girl.
p.s.
I just checked after I posted this originally and it looked like its fixed! Thanks!!!! (:
Dear Love,
Happy 11 months of marriage! I cannot believe that 11 months ago today I was walking down the aisle to be your wife. I am also in shock that in one short month we will have been married for an entire year!
I am sorry again for giving you unnecessary attitude last night. I let the stress get the best of me and I shouldn't have done that. Having Sophia here is a big step in our marriage and I know that we will continue to grow in love together, with Sophia, and with our Lord. You make me so proud! I am really excited for the weekend together! Thank you so so much for the beautiful roses last night too. (:
Forever Yours, Your Rib
Dear Lord,
You are so good. I am so glad that we took the time out yesterday in midst of craziness to give you praise. Thank you for friends and family, God. I want to always give you glory and to take that sweet time to be with You. Thank you for Your presence... I hope that I can always carry that around with me.
Jesus, be with those families who lost someone in that horrid shooting in Colorado. Touch them, God.
I love you!
Always, Your Daughter
Dear readers/followers/friends,
I just want to tell you all thank you for reading my little blog! I am in no way a "writer" since I mess up my punctuation and spelling often and even make up words at times. I am a communicator and I just talk. I rarely have an idea of what I will write before my fingers hit the keyboard and I tend to just let it flow.
I am just so thankful for you all! For all the inspiration and encouragement that I get. I love every single comment I get and try my best to reply back in email (and sometimes in the comment on the post... if your email is set to no-reply). I have been so blessed by this little community of blogger and I hope I can just continue to bless you all! (:
I pray for you all and appreciate you being interested in the
silly, funny, amazing,
things I say. (:
Happy weekend!
Your Friend, Mrs. V
Letters and Love. - Monica
♥ . ♥ . ♥