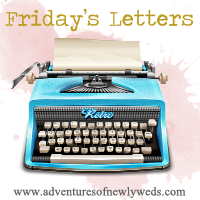 Happy friday everyone! Linking up to write some letters. (:
Dear phone,
I am not sure why you keep sending me multiple texts over and over again. I keep thinking its a new text when I hear the *pop* sound... but no.. its the same text I got 2 minutes earlier. *pop* No.. still the same text. *pop* Oh! Oh.. no... thats the same text from a different friend.
I really don't think Alyssa is saying "How are you doing" 5 times in the last 10 minutes, after I have already answered her question. Please.just.stop.
signed, I-will-put-you-on-silent
Dear emeals.com,
I am not sure if I like you anymore. This week there is only 1 thing that hubby and I would even eat. Hmm.. maybe we should work on this. I am questioning our relationship.
Sincerely, The Stay at Home Wife
Dear Weather,
I really enjoyed the rain these past few days. It was so nice being inside and just listening to thunder with my husband. Don't get to crazy though
... I still watch my weather app like a crazy person to make sure you aren't getting to out of hand. Lets keep it to some low 90s and some lovely off and on rainfall. Thanks!
with love, Me
Dear Hubby,
I am so ready for the weekend with you! (: You told me this morning that we could play some games and I cannot wait! I adore spending time with you.. whether it is talking, enjoying a movie/shows,
playing games, or even watching you play Halo. I know that we have kinda become home-bodies lately but we can still go out and do things! I just love being with you.
Thank you for all you do for me and our little family! I am so grateful that you are always leading me to Jesus and that you have a heart for Him. I love you more and more everyday!
Love Always, Your Rib
Dear Lord,
I had such a wonderful walk with You this morning. I am so glad that I decided to get up and do that. I am just in awe of who You are. I am unashamed of You & unashamed of me. Thank you for such a sweet and blissful time. You are my first love and my heart is ever-growing for You! My prayer is that everyone reading this will experience that love of the Father in a new way. God, I pray that their hearts will be open to You.
Whisper in their hearts like You do to me.
Forever, Your Daughter
Dear Superstition,
HAHAHAHA. Sorry.. but my God is bigger. Today is just Friday... and July 13th. Thats it. hahaha.
signed, Monica
happy weekend everyone!
letters and love, Monica
♥ . ♥ . ♥